Ninety-two-year-old Indian woman Reena Verma Chibbar, who has reached Pakistan on a three-month visit visa, was overjoyed when she reached h...
Ninety-two-year-old Indian woman Reena Verma Chibbar, who has reached Pakistan on a three-month visit visa, was overjoyed when she reached her ancestral home in Prem Niwas Mahalla, situated on DAV College Road, Rawalpindi after 75 years.
Chibbar's decades-old neighbours welcomed her by showering rose petals. The Indian woman danced to the beats of the drum.
Verma, who went to India with her family before the Partition when she was only 15 years old, reached her ancestral home on Wednesday and went to every room on the second floor of her ancestral home and refreshed her memories. She sang while standing on the balcony and cried remembering her childhood.
On reaching Prem Nawas Mahalla near DAV College, the area residents gave her a rousing welcome. Drums were played and flower petals were showered on the guest. Chibbar could not control herself and kept dancing as she heard the thud of the drums. The people of the neighbourhood warmly welcomed the guest on her return to her birthplace.Chibbar said that she did not feel she was from another country. "People living on both sides of the border love each other very much and we should remain as one," she said.
When she entered the house, she took a look at all the rooms. She said that she was 15 years old when she migrated to India with her parents and other family members. She kept looking at the door and wall of the house including her bedroom, yard and sitting room for a long time. She talked about her life back in those days. Reena told the people of the neighbourhood of the map of Rawalpindi 75 years ago.
The senior Indian citizen said that she used to stand on the balcony and hum when she was little. She sang the same 75-year-old tune to reminisce her childhood and cried. She said that the memories of the house were palpable to her. "I can still see myself here today," she said, adding that the neighbours living there at that time were very nice. "When someone got married, all the children of the street, including me, used to run and there was happiness everywhere. Now, once again, the heart wishes to remove the hatred between Pakistan and India and start living together again."Everyone was sad at that time when we left. Neighbours were considered members of the household and we would visit everyone's house," she said, adding that those were very good days, not knowing where those people would go.
Chibbar said that all the people of her age have died. The grandchildren of their old neighbours now live in the house where she and her family lived. But the wall has not been changed even today. Reena Verma Chibbar also pointed at a closet in the house. She said that she used to keep books there.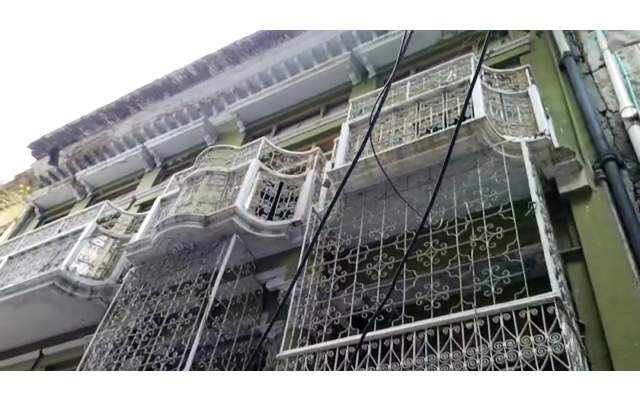 "I moved to India at the time of Partition," she said, adding that she never forgot her home or the street. "Friends and food here are still fresh in my mind. Even today, the smell of these streets brings back old memories. I did not even imagine that I would ever come back here in life. Our culture is one. We are the same people. We all want to meet each other. A local person found me and sponsored a visa after which I reached Rawalpindi through the Wagah border," she said.
She said that no Muslim or Sikh lived in the neighbourhood before the Partition. "All Hindus used to live here. I love Pakistan dearly and want to visit Pakistan again and again," she said.