Brushing aside concerns of Aamir Liaquat Hussain, PTI Senator Faisal Javed Khan on Tuesday said that the Karachiites had voted for PTI chief Imran Khan's ideology and not for any candidate.
Hours after Aamir Liaquat Hussain's media talks, PTI senator Faisal Javed Khan also spoke to a TV channel, saying that the disgruntled leader is neither leaving PTI nor creating a forward bloc within the party.
Talking to the media outlet, Faisal Javed said; "He has this nature, he is adventurous but we will persuade him to resolve all issues amicably and you all will hear a different news in the morning."
Responding aggressively to Aamir Liaquat's claim that he won because of his own popularity and not because of Imran Khan. The young senator said; "I believe anyone would have won on a PTI ticket in Karachi for people voted for Imran Khan's ideology."
"If he thinks its his own vote bank, he should have contested independently," he added
The young senator maintained that he will implore Aamir Liaquat to think of Pakistan and rise above his own interest for the larger interest of the nation.
Eariler on Wednesday, PTI's MNA from Karachi's NA-245 constituency Aamir Liaquat claimed that he was not invited to a meeting in Governor House where the newly appointed governor met all of the party's MNAs and MPAs from city and is deliberately being sidelined due to his stringent views on issues people of the city are facing.
A Whatsapp voice message of Pakistan Tehreek-e-Insaf leader Amir Liaquat Hussain surfaced on Tuesday in which the disgruntled leader is venting his anger against lawmakers of his party.
In the message posted in the Whatsapp group of PTI parliamentarians from Sindh, the mercurial politician is heard conveying his reservations to his colleagues.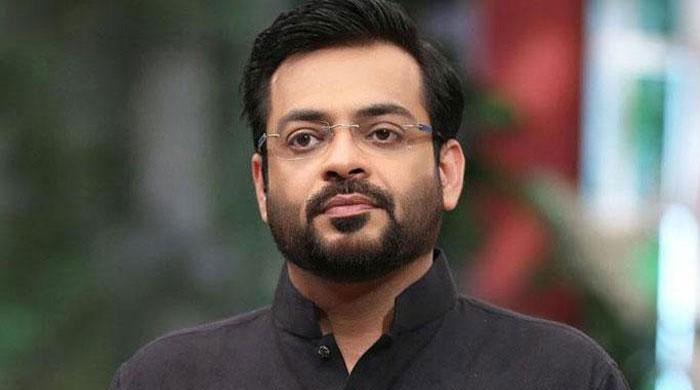 He apparently left the group after his fellow lawmakers from Karachi came up with excuses that failed to satisfy him.
Amir Liaquat also calls for course correction and warns that situation may worsen if the party the lawmakers were not treated with respect.
While one of them saw his departure as a good sign, another called for disciplinary action against